This is for Online BDE Certificate Course only!
Online Schedule
The online digital BDE course is accessible anytime using a computer, cellular device or tablet. Unlike a virtual class, this course can be completed at any place & time; and at your own pace. Complete your 30 hours online training during COVID-19 safely at home. Once you have successfully completed the online training, you will receive an email confirmation. This confirmation will allow you to schedule the 10 hours of in-car training with your driving instructor.
In-car Schedule
In-Car schedule for the 10 hours course:
Only by appointments 
Monday to Friday 
8am to 6pm
Saturday/Sunday/Holidays we are closed. no classes.
Location: In-Car lessons Pickups
High Park Subway: Quebec ave entrance
Pickup and Drop off location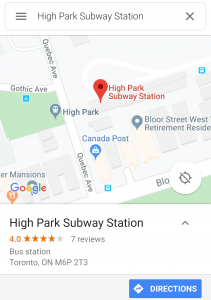 Address: High Park Subway at Quebec ave Entrance, 35 Quebec Ave exit,Toronto, ON M6P 2T5, Canada
COVID-19 UPDATE
Covid-19 policies: Leaner's Academy Driving School LTD. will be following the upcoming COVID-19 guidelines and regulations that the Ontario government has posted on their website.
More information here:
https://www.ontario.ca/page/reopening-ontario?_ga=2.235782977.1128827904.1596382499-1211281189.1567473327
New Health and Safety Protocols at Road test Centres
To protect the safety of Ontarians, DriveTest will also require customers to wear face coverings inside centres and during road tests, sanitize their hands when they enter the building and undergo temperature checks before road tests.
All DriveTest staff will wear personal protective equipment when serving customers. Driver examiners will also be equipped with face shields, sanitizer packages and seat covers when conducting road tests.
Please visit the below websites for the Ontario government updates on when services will resume:
https://news.ontario.ca/mto/en/2020/06/ontario-gradually-reopens-drivetest-centres.html
https://www.ontario.ca/page/extended-validation-periods?_ga=2.217293201.606577121.1585943155-1211281189.15674733
https://drivetest.ca/find-a-drive-test-centre/service_disruptions.html
We will get through this together. Thank you for your understanding.
Regards,
Albert & Ronald Gomez, Learner's Academy

NOTHING TO WORRY ABOUT
Anxious drivers, Teenage driver, New driver, Immigrant drivers, Improvement courses, Experienced Students that already possess a G Driver's License and Need to Upgrade Skills or Learn How to Drive in the Winter, Night, Downtown or Freeways and Highways.