---
Telephone Number
Call us: Office 416.537.4415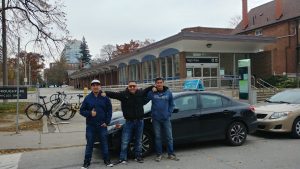 Text us at :
Albert 416.537.4415 
Ronald 647.896.3007
Please note that we are available by appointment only!
Location : In-Classroom lessons  (We are only offering BDE online course at the moment)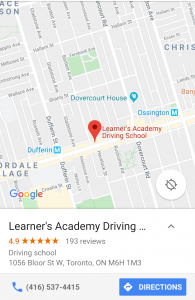 Office location: 1056 Bloor St. West, Suite B3, Toronto (buzzer B3)
Main Intersection: Bloor and Dufferin
2 blocks east of Dufferin Subway Station
Location : In-Car lessons Pickups
Meeting at : High Park Subway at the Quebec ave entrance. The car will be parked across the side street at: 42 Gothic ave.
Pickup and Drop off location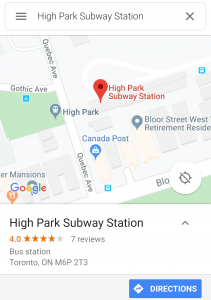 Address: High Park Subway at Quebec ave Entrance, 35 Quebec Ave exit,Toronto, ON M6P 2T5, Canada
Ask Any Questions by Filling in the Form Below:
NOTHING TO WORRY ABOUT
Anxious drivers, Teenage driver, New driver, Immigrant drivers, Improvement courses, Experienced Students that already possess a G Driver's License and Need to Upgrade Skills or Learn How to Drive in the Winter, Night, Downtown or Freeways and Highways.